Yoga Helps You Relax While You Are Expecting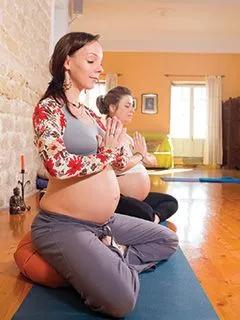 Exercise remains an essential part of any healthy pregnancy of an active woman. But as your baby continues to grow, you may notice your traditional Zumba or Spin routine becoming more and more inaccessible. Your body is still plenty capable of regular exercise, but some positions just aren't going to be comfortable enough to remain a part of your usual exercise lineup. It's time to mix things up a bit, while staying active remains as enjoyable as ever.
Yoga is a great way to keep fit during pregnancy and in preparing for labor & delivery. In particular, it can help strengthen the pelvic area, normalize thyroid functioning and blood pressure, and help keep you calm and relaxed - all of which is good for the baby too! Set aside a little time for prenatal yoga at Crescent Yoga Studio & Eco-Boutique. In addition to the traditional benefits of yoga, the gentle stretching allows some release from the usual discomforts associated with pregnancy.
Let the instructor know that you are pregnant and if you have any other health concerns so they may better help you with the modifications needed. If you're new to the prenatal variations on classic yoga, you might be a little worried about attending your very first class or private session. But you'll quickly find that there is really no reason to feel stressed out. At Crescent Yoga Studio & Eco-Boutique in Midlothian, we will make you feel comfortable every step of the way and ensure that you and your baby are safe and serene. This type of exercise is relaxing, yet, you'll be surprised just how motivated you are to stay in shape and healthy during your pregnancy.
Check out our Class Schedule to see when the Gentle Yoga, Restorative Yoga, and Yin Yoga classes are offered. Or call us to schedule a Private Yoga Session for you or your PreNatal group.
Stretching
Pregnant women often experience increased stiffness in the neck, back and legs. This annoying sensation can be minimized with the inclusion of the occasional stretch break in your daily routine. As a prenatal yogi, you'll learn a vast stretching routine that allows you to comfortably expand your overall range of motion. One of the certified instructors at Crescent Yoga Studio & Eco-Boutique will help you find some stretches that increase your mobility and decrease any current discomfort you may feel -- particularly in your back.
Breathing
If you're like the typical pregnant woman, your baby bump discomfort is compounded by stressors related to work, family, and other factors. All this stress can have a negative impact on your child's prenatal development. In order to clear away the mental chatter, your Crescent Yoga Studio & Eco-Boutique instructor will guide you through various breathing exercises (Pranayama). You'll be asked to engage in deep breathing, utilizing the diaphragm. It's amazing how quickly these exercises will reduces your stress levels! If you decide to also take Lamaze classes, you will find that the breathing techniques are very similar and harmonizes with your yoga practice very well.
Whether you're a lifelong yogi or completely new to this relaxing form of exercise, you & baby both stand to benefit from attending yoga classes that support prenatal & postpartum women. As long as your physician believes that physical activity is safe for you, this local yoga class can do worlds of good for your mental and physical state. Give it a try and experience the immediate stress relief and overall feeling of health and well being!
For more information please see these articles from our Newsletter Library Prenatal Yoga Prepares for Childbirth, Prenatal Yoga and Practicing While Pregnant.