Private Yoga Sessions Customize Your Experience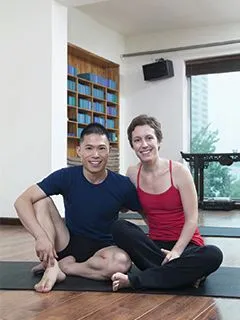 Today's group yoga classes are a modern invention. In its early days, the practice was passed down from one teacher to one student, and instruction was individualized. Whether you're a novice or an advanced practitioner, private yoga ssessions at Crescent Yoga Studio & Eco-Boutique can mimic early yoga teaching methods and maximize the weight loss and health benefits of this low impact workout. We will help you sculpt your muscles while improving flexibility and balance, and you will receive the personal attention you need to get the most out of every asana, or pose. Private yoga sessions are 1 hour and booked by appointment around our weekly classes. Use the online Contact Us form or give us a call to schedule your appointment today.
The Health Benefits of Private Yoga Instruction
Private yoga sessions with one of our certified instructors are an investment in your health, vitality, and overall well-being. One-on-one instruction at Crescent Yoga Studio & Eco-Boutique lets you focus on personalized goals -- you can sculpt specific muscle groups or work on loosening tight hamstrings, for example. If you have an injury or medical condition, private yoga sessions let you modify this low impact workout to prevent injury and aid in the healing process. Aside from their health benefits, private sessions at Crescent Yoga Studio & Eco-Boutique with one of our certified instructors can teach you how to use a home practice and the group classes to meet your personal goals. If you would like your practice to help you achieve a mental, emotional, spiritual or physical goal, our private instruction can point you in the right direction.
Deepen Your Knowledge of Yoga and Boost Confidence
Many people are curious about yoga as a workout for weight loss and body sculpting, but are shy about doing it for the first time in a group setting. One of our private beginner's session can teach you the basics so you can go into your first class feeling confident and ready to successfully do your poses. Private yoga sessions at Crescent Yoga Studio & Eco-Boutique maximize the strength training, flexibility, balance, and other benefits of yoga. Consider a private session to further your own yoga practice. Check out our available appointments and Book Online, or Contact Us today to inquire about setting an appointment and finding the right instructor/practitioner for you.
Types of Private Sessions and Healing Services we offer at CYS:
Yoga Individual ($75) - This is perfect for new students just beginning to learn the fundamentals, as well as for the intermediate/advanced students who need additional instruction to deepen or further their existing practice. Receive full attention of the yoga teacher to access your individual needs and prescribe a personalized yoga program. Whether you're an athlete wanting to enhance your sport performance or wanting relief from an ailment or health condition, a customized yoga therapy program can be created just for you. 3-pack Private Sessions $195 (Save $30).
Yoga Couples ($80) - A little shy and want a partner to accompany you for a private session? Wonderful idea... great bonding & learning experience for spouses, siblings, Mother/Daughter, Dad/Son, BFF's, or anyone you like. Come get healthy together!
Yoga Groups ($100) - Great way for your group to address specific needs of body~mind~spirit. We work with schools, businesses, sports teams, bridal parties, churches, troops and clubs to provide a customized yoga class just for your special group of up to 20 people. This can also be a family affair for some quality family time. If you have a larger group or would like us to come to you, just have your human resources department or wellness coordinator contact us for more details about our Corporate Yoga Programs.
Private Reiki Sessions ($75) - healing sessions using energy work with the chakra system, crystals, aromatherapy and other techniques for stress reduction and relaxation that also promotes healing in mind, body, & spirit. 3-pack Reiki Sessions $195 (Save $30).
FAR Infrared Sauna Sessions ($30) - promote healing, weight-loss, detox, decrease inflammation, stress relief, relaxation and more with a private 30min. sauna session. 3-pack Sauna Sessions $75 (Save $15).

Private Ayurveda Counseling Sessions: ($100) - our certified lifestyle counselors utilize this sister science of yoga to help bring the body/mind/spirit back into balance using healthy diet, meditations, mantras, aromatherapy, yoga asanas, and other healing modalities for optimum health. See the article What is Ayurveda? in our Newsletter Library.

Private Nutrition & Natural Health Sessions - Biofeedback with Gwen Foster, ND, DNM. 1hr Consultation ($75). Follow-up Appointments 30 minutes ($40). Kids Private Appointments 30 minutes ($25). These are only available when we host Natural Health & Wellness Workshops throughout the year, see our Community Events tab for upcoming dates.